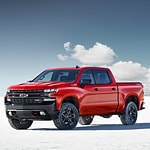 Drivers in Yorkville often come in search of a Chevrolet Silverado 1500 due to the impressive performance that they are able to get out of the truck. When they speak to the staff at Carbone Chevrolet our customers know that a Silverado 1500 is a great vehicle for any off-road adventure they might want to take. But customers also love the Silverado 1500 thanks to the design specifications that Chevrolet has included.
The exterior of the Silverado 1500 includes multiple trim packages and a variety of bold colors. These external choices allow you to customize the look of your Silverado 1500 to make it truly stand out from the other trucks on the road. Purchasing a Silverado 1500 also means having a variety of wheels available. You can easily purchase a truck with 22, 20, 18 or 17 inch wheels.
If you are craving a vehicle that makes driving and riding easier, the Silverado 1500 has power tailgates and sunroofs. You will also benefit from standard heated seats in both the rear and the front.